Search found 4 matches
Search found 4 matches • Page 1 of 1
by NickelIII

Sat Jun 16, 2018 9:10 am
Topic: Trojan:Win32/Azden.B!cl
Replies: 1
Views: 2587
Hallo zusammen,
habe gerade die neue DEMO für Elemts XXL installiert und dann kommt folgende Fehlermldung: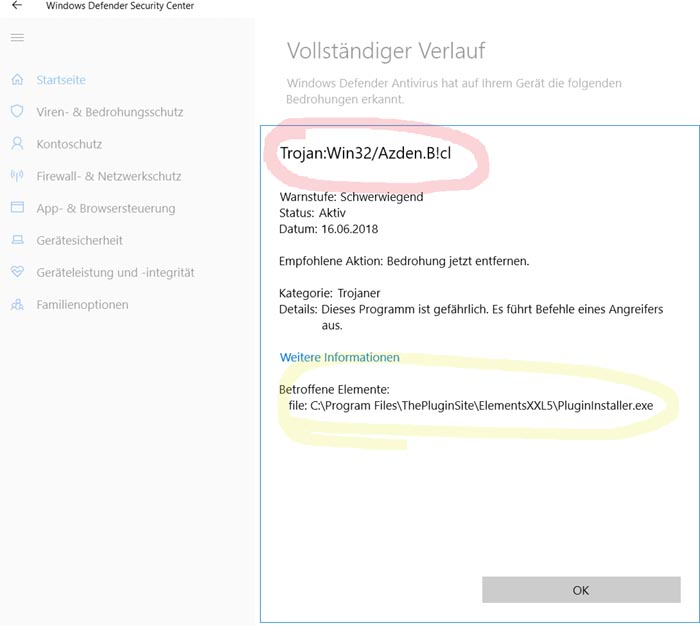 hat das was zu sagen?
by NickelIII

Wed Jun 13, 2018 2:59 pm
Replies: 4
Views: 6043
Hallo ich wollte nur fragen ob das jetzt mit dem Neuen XXL und PSE 14 funktioniert ?
Mein ziel ist eigentlich vom Photoshop 7 !!
langsam weg zu kommen und das mit PSE 14 und XXL zu machen. aber wenn das programm beim aus auswählen der Farbe abstürtzt nervt das natürlich
by NickelIII

Sun Mar 05, 2017 4:41 pm
Replies: 4
Views: 6043
Use PSE 14.
Yes, the problem does not always occur. If you hold the mouse and go over the colors. The problem occurs more often than if you just individually a few colors.
by NickelIII

Sat Mar 04, 2017 12:06 pm
Replies: 4
Views: 6043
Hello,
Excuse my German is not very good.
But my problem I linked in a movie.
Is the problem known, or only with me?
max. 50 Downloads
Grüße Klaus
---
Search found 4 matches • Page 1 of 1